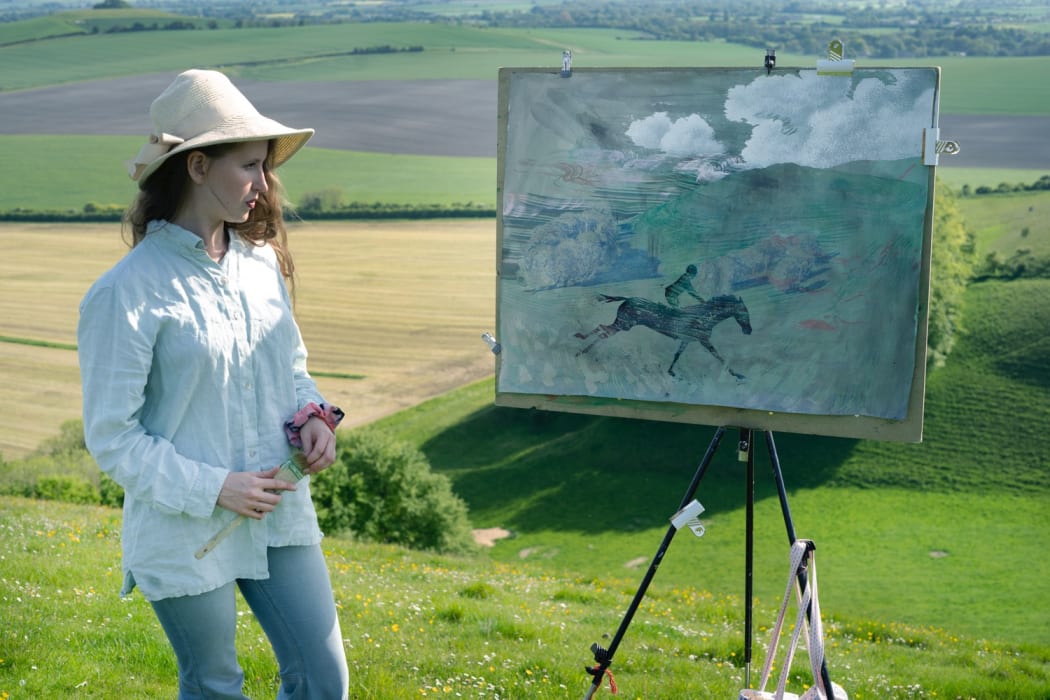 Freya Woods's work is characterised by her obsession with Wiltshire Landscape. Working 'en plein air' and out of a studio which sits at the foot of the Iron Age Hill fort of Martinsel, Freya employs a highly idiosyncratic technique of combining watercolour, gouache, ink, and gum arabic, to recreate the details of the natural world from which she draws her inspiration.
Freya's chosen subjects are places filled with both cosmic and emotional charge. Cosmic due to their history and pre-history, emotional due to the association of some specific sensation, memory or event buried alive in the psyche of the artist, who was raised in this country renowned for its high downland and wide valleys, and uniquely rich Neolithic past.
Freya searches for 'motifs' in the landscape which hold some potent, dreamlike or inexplicable meaning. To Freya, objects detach themselves from the landscape and become 'looming protagonists in strange encounters.' Her paintings are profuse with these 'personages,' the presences of Beech Clump thickets, fir plantations or the silhouettes of ancient landmarks seem almost animated as they communicate their strange meaning to the viewer.
Freya avoids the literal landscape, the worlds she creates are more metaphorical. Although the places she depicts are rooted in a topographical reality, (primarily the environs of the Wiltshire downs) she tends to return to particular places for 'motifs', places that hold some intrigue for her, to which she has attached some important memory or sensation. Her paintings are an emotional reaction to a spectacular backdrop which has moved her since childhood.
Freya immerses herself daily in this landscape. The hills rise and fall around her as she moves through it on her way to her studio in the heart of the valley, or to her latest painting spot. The shifting, rippling forms of the hills, the eerie and inviting avenues, the geometric undulations of the pattern of the plough, all these are internalised and stored up as she walks, ready to emerge somewhere down the line, surfacing in some strange new guise in a new painting or drawing.
Born in 1987, Freya Wood was an art scholar at Marlborough College, studied the MA Fine Art course at Edinburgh University, at the Charles Cecil Studios in Florence and at The Royal Drawing School in London. Aged 19 she exhibited 40 landscape paintings in her first solo show at the Mount House Gallery Marlborough. She has since exhibited at 20 Hoxton Square, the Sladmore Gallery, Christies and with British Art Portfolio.
Her works are in the collection of HRH The Prince of Wales, HRH The Duchess of Cornwall, the Right Honourable Boris Johnson, the Right Honourable Lord Mandelson and Brigadier Andrew Parker Bowles.