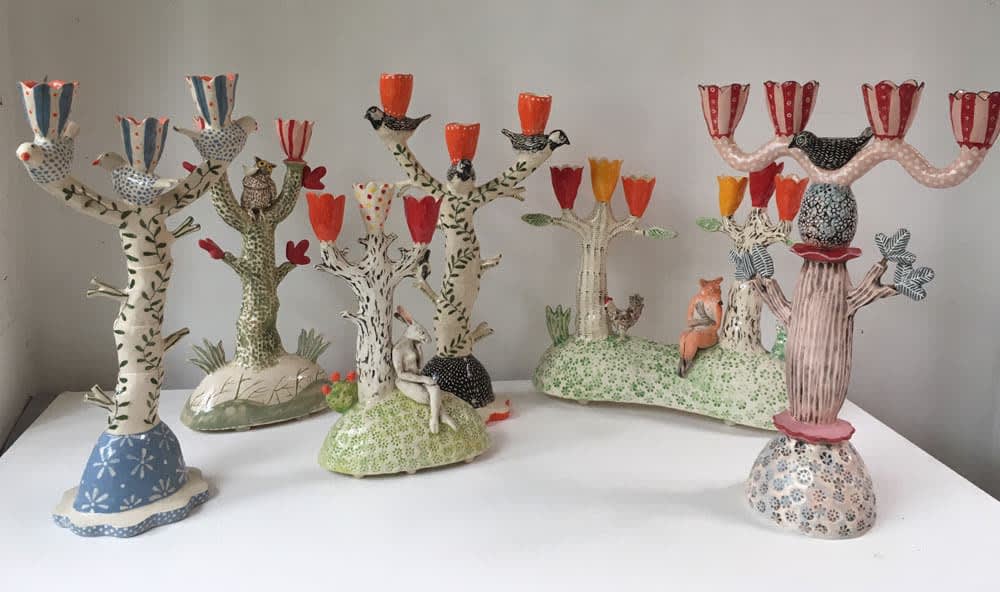 Laurance was born in Paris and came to the UK as a student over 30 years ago. Her range of ceramic vessels celebrates the delicacy of the natural world; she weaves skill and imagination in a joyful ceramic tapestry of nature. Her sculptures have an element of storytelling and borrow from her love of the absurd and surrealism.
I visited her studio in January and I was instantly enchanted by the character and individuality of her work. There was a wide range of pieces at various stages of completion, which gave me a good insight into the lengthy processes which go to make Laurance's ceramics so unique. An array of jugs, bowls, vases, candelabras of all shapes and sizes lined the shelves and work bench.
A stunning mosaic mirror was also under construction. These mosaic mirrors consist of small ceramic pieces, which are all handmade and hand painted. The white mosaic squares are cut into small pieces and assembled piece by piece. Each unique mirror is involves a very lengthy process and takes up to a month to finish.
Laurance's work is all hand built, using white or red earthenware. The method she uses is mostly coiling and occasionally using slabs of clay. It can be carved, incised, scratched or whatever she feels applicable to the work in progress. She pays a lot of attention to detail and to the modelling.
Her pieces are hand-painted using slips, underglaze, coloured crayons and after a first biscuit firing, a transparent or coloured glaze is also applied. The pieces are fired at Earthenware temperatures twice and sometimes three times. Each firing has its risks and Laurance sometimes loses a piece to the process just before it is completed, despite her skill and experience. Thus her craft has its disappointments as well as rewards.
Laurance is conscious of her craft heritage and draws from her childhood experiences of working with her hands.
"My grandfather and uncle were proud craftsmen, making hand-built horse-carts. I spent all my childhood summers in their huge workshop that smelt of sawdust and wood and it was bliss. It was there that my love of making was ignited and in Britain I had the opportunity to develop it'.
However, it was also from travelling in Africa and India that Laurance discovered and admired the lack of self-consciousness and the liberation from the shackles of tradition and the limits of scale. Having adopted Britain as her new home, Laurance found that her life straddles two different cultures and thus opens the door to embracing multiculturealism and escaping the narrow, parochial and excluding world of nationalism.
"Once you cross your own border, you feel like all the others are open too".